Download Game Red Alert 2 RIP | Portable | Mediafire Link | Genre : RTS | 140 MB
Game Red Alert 2 Portable ini adalah game ber-genre RTS / Strategy yang berlatar tentang perang antar Soviet dengan Amerika serikat tapi modelnya game perang modern atau perang gaya robot, buat para penggemar game Real Time Strategy game ini sangat kereb banget untuk dimainkan, game ini sedikit mirip dengan empire earth, tapi game ini dikhususkan perangnya menggunkan tembakan dan laser, Yang Jelas, ini merupakan game real time strategy yang gak boleh di lewatkan.....
Screenshoots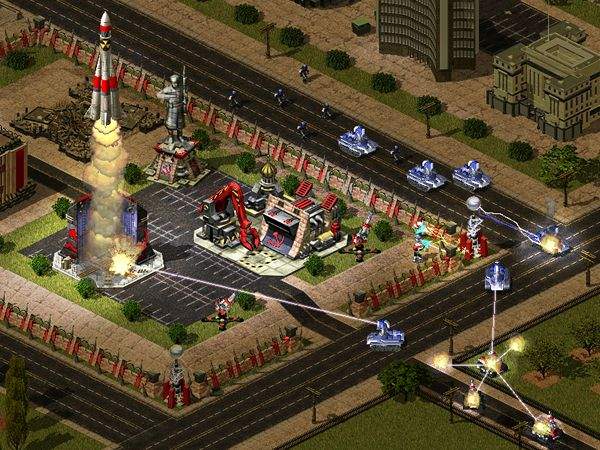 Download Link (Mediafire) 140 MB
Minimum Requirements System :
PII 266 or equivalent
RAM:64 MB RAM
CD-ROM: 4X CD-ROM
Video Memory: 2 MB VRAM
Hard Drive Space: 350 MB
Mouse: Yes
Sound Board: Yes
DirectX: DirectX v7.0a


Considering its elite heritage, Command & Conquer: Red Alert 2 has a lot to live up to. The Command and Conquer series essentially defined 2D real-time strategy on the PC and developer Westwood Studios continues to be a leader in that genre. Built on the Command & Conquer: Tiberian Sun engine, Red Alert 2 has been tweaked to allow even larger battles and a more user-friendly interface. Units now can garrison in buildings, adding another strategic twist.

The Red Alert 2 episode takes place some time after the original Red Alert. Stalin is dead and has been replaced with the new "evil leader," General Romanov. Some of the action takes place close to home for the Allies in this episode, with Soviet forces invading New York City and Washington D.C. As Command & Conquer: Red Alert 2 sticks to the same basic storyline and gameplay design while featuring new weapons and recognizable battlefields, real-time strategy fans should find it a worthy addition to Westwood's Command & Conquer series.


Note :
Jika memakai windows 7, set compability ke winXP